Summer Sky Riviera Bar
When we heard about the latest installation at one of London's most Iconic buildings- The Gherkin- we had to check it out.
Inspired by the Cote d'Azur; the bar at The Summer Sky Riviera is an absolute must to visit before the end of summer. Set upon the 40th floor, the installation oozes timeless glamour- showcasing an incredible 360-degree view of the London City.
The installation's interior immediately mimicked an evening spent by the Riviera; as we entered the rooftop there were wave sound illusions, palm tree reflections, nautical striped table linen and even a faux market stall- adding authenticity to the French theme.
After being seated our evening kicked off with cocktails from the limited edition drinks menu. The menu had been designed by Beverage Manager Federico Geniale and was in collaboration with Tanqueray No.TEN gin to match the French summer night's theme.
The first cocktail that we were served with was the "Saint Tropez"- a delicious mixture of Tanqueray no.10, rose liqueur, Vermouth and grapefruit. The cocktail tasted subtly sweet but also very refreshing.
Then came the "Nice" – Tanqueray no.10, aperol, orange blossom and bergamot. These flavours were a complementary and contrasting mix- not only very sweet and fruity but also rather bitter.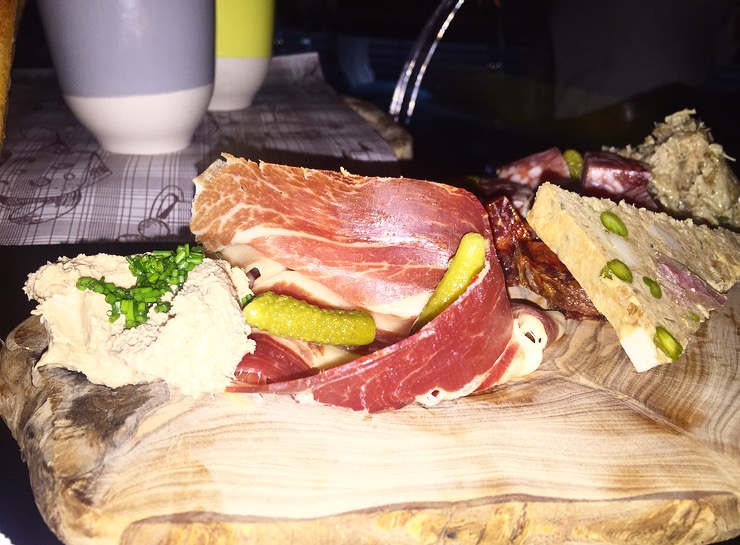 We were served a traditional Mediterranean- inspired charcuterie board. The carefully selected cured meats included both thick and thin muscle cuts- prosciutto, salami and chorizo. Chicken pate and terrine also added textural intrigue to the assortment of the cured meats.
The home-made bread rolls paired perfectly with the meats. This was served along with fresh olives, and a variety of dips which included guacamole, olive tapenade and aioli. These complimented the cocktails perfectly and went down a treat.
We had a brilliant evening at the Summer Sky Riviera pop up and it really is a must-do for an evening of fun, tasty cocktails, delicious nibbles and anyone seeking a lively atmosphere. The pop up is open until September 2nd.
To book click here- http://searcysclubthegherkin.co.uk