Luxury Brunch at Saatchi's Gallery Mess
One of my favourite weekend treats is brunch- later than breakfast and more leisurely than lunch, for me, it's always the best occasion to catch up with friends, indulge in a delicious meal and sip on bottomless bubbles.
Set right in the heart of the Duke of York Square in Chelsea and overlooking the Saatchi Gallery's beautiful terrace, we headed to the Gallery's own restaurant Gallery Mess to sample a taste of their brunch menu.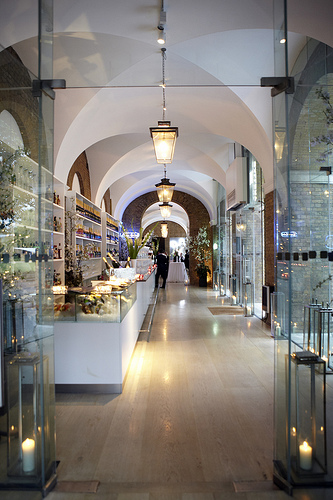 First impressions exceeded our expectations, the restaurant was full of striking artwork, sculptures, exposed brickwork and even the lavatory walls were made of bars of soap. Sitting in the corner of the restaurant we were able to have privacy yet still catch a glimpse of the terrace and stunning gardens, whilst taking in the atmosphere which remained very relaxed.
The waiters were very friendly, to start with they recommended the passion fruit martini cocktail to try- using Pernod Ricard Martini, this was refreshing yet sweet. To accompany the fruity cocktail, we had freshly baked bread rolls and garlic olives– these were amazing and very moreish.
For mains, we had the poached eggs on a muffin with smoked salmon and hollandaise sauce. This was an appetising, light brunch and the passion fruit martini complemented this.
We had a black coffee along with the hot dark chocolate brownie with candied walnut and salted caramel gel for dessert. This was warm, gooey, moreish yet not too rich.
I would highly recommend brunching at Gallery Mess to anyone looking to dine in elegance, enjoy excellent food and a personable service.
Gallery Mess opening hours: Monday to Saturday 10:00am-11:30pm, Sunday 10:00am-7:00pm